back to the overview
Uniguest
The leading single platform solution for Digital Signage, IPTV and Video Streaming



TripleSign Digital Signage
Flexible cost effective, feature-rich and world class Digital Signage CMS
Tripleplay's TripleSign platform is a feature-rich digital signage solution that has been adopted by thousands of clients across the globe, giving real time access to content and a more engaging platform for audiences to interact with.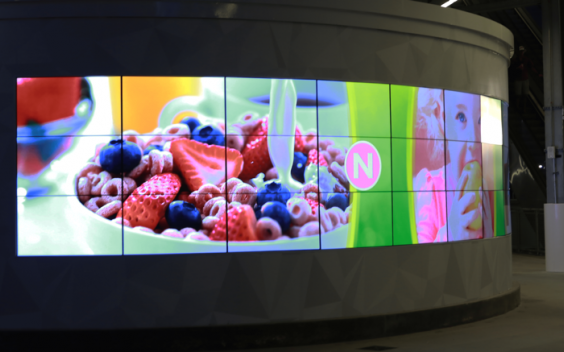 Advertising – Our single platform solution allows the delivery of advertising, communications, promotions and news across any network to any device. With integration into most standard EPOS systems we can activate live digital menu boards, and utilise interactive touchscreen displays and signage delivery to video walls.
Wayfinding - Tripleplay's platform enables ingest and display of wayfinding information from 3rd party sources, enabling users to book meeting rooms, desk space, find a colleague or find their way around a venue or building. Furthermore, Tripleplay can deliver intelligent crowd management, redirecting on-site visitors to quickest routes, smallest queues and quietest areas.
Digital Communications – Tripleplay easily distributes communications, advertising and messaging around sites intelligently and instantaneously. Key features include: Integrated IPTV, event triggers and control (including alarm system integration), calendars, weather, travel & transport, RSS, social media and many more.
QuickDrop - Allowing single-click, drag and drop updating of images, videos and presentation content (including PowerPoint and Excel for Digital Menu Boards) in a digital signage layout. Targeted at occasional users of the system, QuickDrop enables you to change content in a layout in 3 clicks! QuickDrop is also functional with our Enterprise Video Platform and Interactive IPTV Portal solutions, allowing mass drag and drop upload of VOD and music content, enabling much simpler upload of video series, music albums and video libraries.
3Create Visual Editor - 3Create is a simple to operate, user friendly drag and drop layout creation tool and will run alongside our traditional Full Layout Editor. 3Create is designed for use by creative users and occasional users of the Tripleplay Digital Signage system.
Other features to note:
Event Triggers
Multi Video Window (deliver up to four streams in one layout)
4k capability with BrightSign Media Players
Workflow Management
Interactive Touchscreen Support
Tripleplay's TripleSign Digital Signage platform is available on Amino Set Top Boxes (STBs), Samsung & LG System on Chip (SOC), BrightSign Media Players, AVNU PF Series screens and Intel NUC PC devices.
TripleTV IPTV
The next generation AV/IT solution for IPTV delivery
Designed for use on enterprise quality networks, the Tripleplay IPTV solution has unrivalled flexibility and scalability, with added security and encryption through integration into LDAP, SAML, Active Directory and by use of SecureMedia and other encryption standards.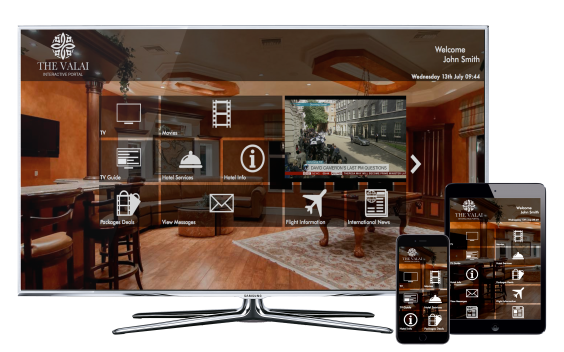 The headend outputs all data as multicast IPTV streams using H.264, MPEG2 and now the latest H.265 (HEVC) video codec and comes complete with its own management and monitoring software.
Clustering and server fail-over has been introduced for environments where TV delivery is seen as mission critical, such as large sports and entertainment venues and investment banks.
Desktop Video - Available as a desktop app for Mac and Thin Client PC, Tripleplay's Media Video Player (MVP) provides online streaming and the ability to securely download media content, as well as enabling personal content upload and a full content management system. Tripleplay is also capable of delivering to a virtualised desktop (VDI) environment.
Mobile Video - Using Tripleplay streaming and IPTV technology, the Tripleplay Mobile Media Application (MMA) is an integrated platform for viewing, uploading, offline viewing and sharing of media content and comes complete with built-in messaging, forms and chat features. A safe and secure, controlled, high quality media delivery and communications platform.
Low Latency HD Encoder – Faster, high quality and better value encoding. 1080p, 100ms latency, as low as 350ms Glass to Glass, 1u, Dual/Quad Input and Output. Ideal for fast moving environments such as sports stadia and arena, Tripleplay's low latency HD Encoder is available in both two channel and four channel options, both delivered as 1U, 19" rack mount units.
Interactive IPTV Portal
With a constantly shifting in-room requirement Tripleplay has developed an Interactive IPTV Portal with market leading features including bring your own device (BYOD) and bring your own content (BYOC), building control integration, smart app support and integration into most of the world's leading property management systems.
Accommodation TV - Customisable and available in a number of standard styles, the Tripleplay Interactive IPTV Portal is a perfect solution for hotel TV deployments, residential TV systems, corporate boxes, care homes, hospital bedside TV systems, military and commercial vessels and mining complexes.
PlayMedia Contect Sharing - Deliver personal content (BYOC) to the Tripleplay Interactive IPTV Portal on both Smart TV and Set Top Box with the PlayMedia app for iOS and Android.
Google Chromecast - Tripleplay's Interactive IPTV Portal supports Google Chromecast, allowing the delivery of personal streaming account content to be delivered via our in-room portal solution.
Headend ingest sources include:
DVB-T/T2, DVB-S/S2, DVB-C, DVBS-CI
Analogue SD and HD
HDMI
ASI
IP Multicast
HD Encoders
IP Cameras
Direct IP Feeds
Please note: TripleSign and the TripleTV Digital Signage and IPTV platform are fully integrated and act as one complete software solution for organisations.
Market Applications
Banking & Enterprise
Mobile device streaming
Thin client delivery
SAML, LDAP and Active Directory integration
Room control integration (eg. AMX and Crestron)
Microsoft Sharepoint integration
Server cluster and failover
Education
Event triggers and control, including alarm system integration.
Display rich media resources; calendars, weather, RSS, travel, social media
User access control and unique profiling
VLE integration (Moodle and Blackboard)
Content bookmarking, commenting, search downloading and sharing
Active Directory integration
Lecture streaming and recording
Health and Aged Care
Integration into nurse call systems
Secure content encryption
Wayfinding and public information
Access controls and local restrictions for mobile media
Live video streaming to waiting rooms
Care video delivery and training video library
Bring your own device (BYOD) and bring your own content (BYOC)
Hotel & Accommodation
Multiple customizable themes available
Live TV from multiple regions and sources
Video on Demand and DRM
Bring your own device (BYOD) and bring your own content (BYOC)
Smart TV integration, meaning no STB required
Use of SmartTV apps within our portal
Integration with most popular Property Management Systems (PMS)
Maritime
On-Board staff communications
Live TV in personal quarters and communal areas
Video on Demand movie library access in personal quarters
Bring your own device (BYOD) and bring your own content (BYOC)
Digital Menu Boards in canteens
Pre-set satellite configurations to enable seamless movement from region to region
Retail
Display static or animated electronic posters
Interactive touchscreen integration
EPOS integration
Simple integration with 3rd party retail technologies
Integration with warehouse management systems to display statistics
Sports & Arena
Live match streams
Advertising and revenue generation
Digital Menu Boards (including EPOS and Venue Management software integration)
Fan communications
Corporate box TV (including PMS integration)