back to the overview
LG
Life's Good
LG Information Display is a global business partner with its advanced technology and end-to-end services.

Digital signage solutions are designed with a focus on a deep understanding of the industry and customer convenience. Integrated solutions ranging from content management, service to maintenance are delivered.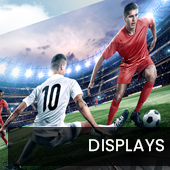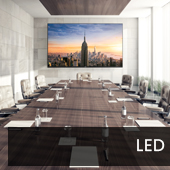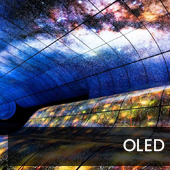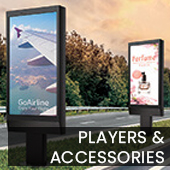 Digital Signage
The best content deserves the best display. With LG Digital Signage you choose impressive quality.
View the LG Digital Signage catalog
here
.
Videowall
The ultra-thin frame of only a few mm (and in some series even less than 1 mm) keeps the image always clear and sharp, no matter how many panels are placed next to each other. The built-in image optimization ensures that the image distance is reduced. This gives a seamless and pleasant viewing experience.
High Brightness
The Open Frame Series is always visible and clear, no matter what the weather conditions. A special coating protects the outdoor displays against cold, heat and rain. With Automatic and Smart Brightness Control, the displays are always visible in bright sunshine, and not too bright in the dark. Ideal for bus shelters, shopping malls and places where there are a lot of people.
The
window facing displays
are easy to install in shop windows. The display catches the eye of visitors and passers-by with its vivid images and optimal quality. These window facing displays are very quiet, because they are designed without a fan. The design stays cool without unnecessary noise.
OLED
The possibilities with LG Wallpaper Displays are endless. Due to its ultra-thin design, it offers an integrated look with your environment. And with only two layers, the OLED displays are incredibly lightweight and therefore easy to hang. In addition, the quality of the OLED displays is amazing thanks to razor-sharp contrast. Especially because luminous pixels automatically turn themselves off to make an image blacker than black.
The ultra-slim LG OLED displays are finished in such a sophisticated way that passers-by get the feeling that the image is coming directly from the wall. In addition, the lightweight screens are easy to install and the position of the LG Curved Displays can also be figured out on the spot, so that the space is used optimally. And as if that's not all: the screen size is adjustable and has no maximum.
LED
All rooms get a new dimension with the LED possibilities of LG. LG offers a wide range of indoor and outdoor applications.
Indoor
All rooms get a new dimension with the LED possibilities of LG. LG offers a whole range of indoor applications. A complete line-up, from a super fine-pitch to a standard indoor pitch.
Outdoor
Billboards and soccer stadiums get another dimension with LG LED, but sometimes less is more and also for smaller squares and utilities LG has the flexible and high quality solutions that make the difference. The streetscape or public spaces are the carriers on which LG can bring your message in an incomparable way.
All-in-One
The Rolls Royce for the meeting room. LG has included every feature that requires a company meeting in one giant screen. From image quality over connectivity to polyvalence, the All in one LED has certainly not stolen its name. Our All in One LED line-up consists of two formats, the 130" and 136".
Transparent LED
A glass banister or a shop window offers a surface with a lot of potential. The Transparent LED gets the most out of it. Commercial messages no longer go unnoticed at airports, in commercial centers or public spaces.