As an IT professional, it is your job to make sure that any application being deployed on the network is safe and secure. But we know that you have other questions. You have invested a great deal of time and money in your corporate IT infrastructure. You want visibility into bandwidth requirements, technical requirements, scalability, upgrades, technical support, and maintenance. In the end, we know what you must be asking and for good reason - what sort of return on my investment can I expect? Please give us a few minutes to answer your questions, we are confident you will be glad you did.
Q: How do AMX SVSI networked AV solutions integrate video sources such as HD cameras, Blu-ray players, media players, DVRs, computers, satellite receivers, and audio onto our network? Once on the network, how do I get the source material to my display?

A: Sources are connected to SVSI encoders. The encoder then converts the raw audio, video, and control signals into three separate IP packet streams – each capable of their own destination.
How the signal is transported depends on the transport technology selected. It is important to determine the best technology based on the use case and the balance between bandwidth usage, speed, and image quality. The requirements of an in-room solution with a presenter using a keyboard and mouse in front of a live audience are far different than sending video from New York to Hong Kong.
It's all about the mix. How much compression is tolerable? How much bandwith is required? What are the allowable latency standards? It's important to consider the video sources, use cases, and realities of the network infrastructure to make the right choice. Within our SVSI networked AV family of products, we offer a range of solutions including the minimally compressed N1000 Series, JPEG 2000 compression in our N2000 Series, H.264 compression ideal for global transmission in our N3000 Series, and two 4K compatible lines including a choice between a wavelet codec within the N2300 Series and JPEG 2000 within the N2400 Series.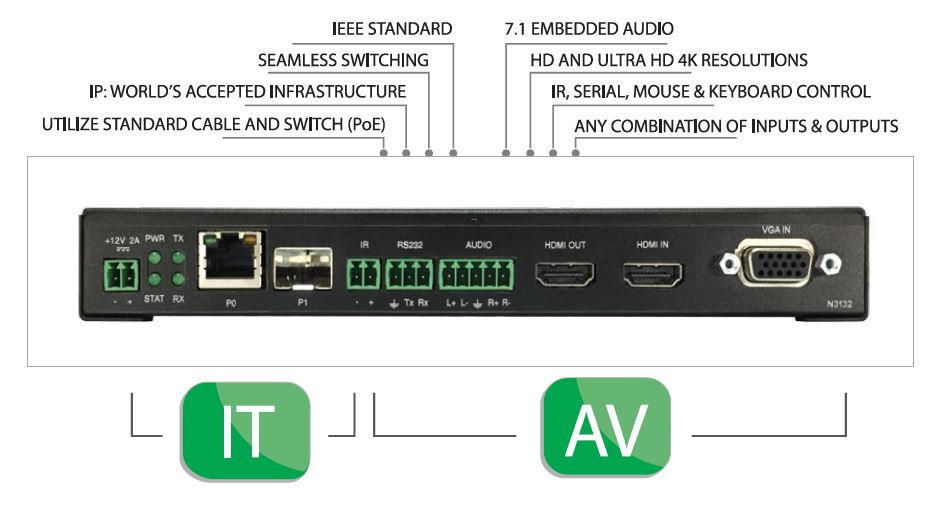 Having a wide range of choices means never paying a higher price for unwanted features, or compromising desired features because no premium product is available.
For more detailed information on audience requirements, latency tolerances, bandwidth, security, management, compression, content attributes, streaming technology components, network transit, and more please see our AV Technology Manager's Workbook – Planning for Video Streaming – What You Really Need to Know.
Encoders compress the video signals before packetization in order to transmit over industry standard gigabit Ethernet networks. JPEG 2000 maintains superior low latency and quality while utilizing very little bandwidth. Additionally, our JPEG 2000 encoders and decoders allow for precise adjustments to dial in desired bandwidth consumption based on quality and network preferences. Utilizing H.264 compression technology, the N3000 Series is very bandwidth friendly and perfect for global transmission. Our N1000 Series utilizes a bit more bandwidth because it is very minimally compressed. In fact, the compression algorithm used is near mathematically lossless. This makes it perfect for presentations in front of live audiences, or other use cases that require imperceptible latency.
Once these signals are converted into packets, they can be switched and routed identically to, and alongside, data packets. Each display, connected to an SVSI encoder that wishes to display an encoded signal requests these packets, synchronizes them, and then outputs the raw signals once more.
Each encoder and decoder is equipped with a standard Gigabit Ethernet (GigE) network connection. Since the infrastructure utilizes standard CAT5e cabling, it is "future-proof" and can be deployed by existing network technicians with no special training.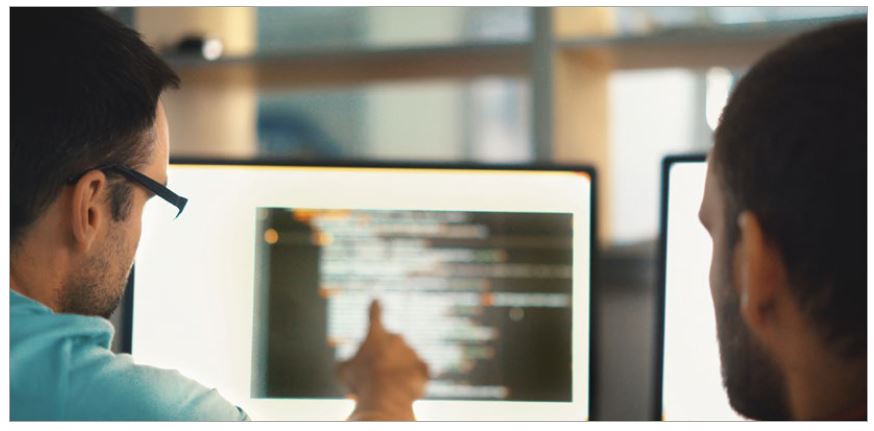 Q: Can SVSI operate on my existing network?

A: Yes. Our entire line of encoders and decoders can all be deployed on an existing data network with video, data and voice packets intermingled. To determine the best product for a given use case and network, please contact your HARMAN Representative, the AMX SVSI Applications Engineering Team will check calculations, go over edge cases, or assist in designing and planning network backbones.
In short, even our least compressed N1000 Series can be deployed on a 1Gbps network with proper planning and design. The N2000 Series offers adjustments between standard quality and extreme quality giving flexibility in bandwidth minimum requirements between 120Mbps and 220Mbps (including a 20% overhead) for the N2x22 Series, or 220Mbps and 660Mbps for the N2x35 Series, while the N3000 Series is the most bandwidth friendly at a recommended 10 – 20Mbps because it utilizes H.264 compression. And, we offer 4K solutions that require as little as 820Mbps.
If desired, SVSI can also be deployed on a physically separate, parallel network using the same network protocols, practices, and appliances but without intermingling video traffic with data or voice.

Q: How will SVSI traffic impact my network?

A: The impact of SVSI devices on a network is directly related to which series of device is being used; however, SVSI devices all use standard TCP/UDP IP packets. The following is a description of exactly what our packet types do within a network.
• Unicast – This packet type is single source to single destination and is how control signals are passed to SVSI devices. These signals could include, but are not limited to, switching streams, setting IP addresses, muting audio, etc.
• Broadcast – This packet type is used for discovery of SVSI units during installation or expansion of the audio visual system, as well as system status and monitoring. These packets are small and will have minimal impact on the network.
• Multicast – This is the predominant packet type an SVSI system uses. It is the actual AV data in a UDP form. Encoders generate the multicast UDP packets and via standard switch architecture/fabric, can be requested by any decoder within the network.
Network switches direct packets from an input port to one or more destination ports based on header information. SVSI uses multicast packets for video streams allowing a single stream to be broadcast to multiple displays without duplicate streams consuming your network bandwidth. By utilizing streams of multicast packets, SVSI can be quickly deployed on your existing network, taking advantage of the multicast capability in switches that you already own with little or no infrastructure upgrade or impact.
Q:
How will I manage all this multicast traffic?
A:
Simple! Through the use of certain protocols, the multicast traffic can be switched and routed to wherever it is needed without affecting your network performance. SVSI uses IGMP, Version 2, (Internet Group Management Protocol) for the control of AV traffic within a network. The two functions of IGMP used are:
• IGMP Snooping – This is a form of port based packet inspection that identifies that the packets generated from an encoder are in fact multicast.
• IGMP Snooping Querier – The querier acts as a central control mechanism (using the info gathered by IGMP Snooping) to direct multicast traffic to only the requested ports where decoders reside.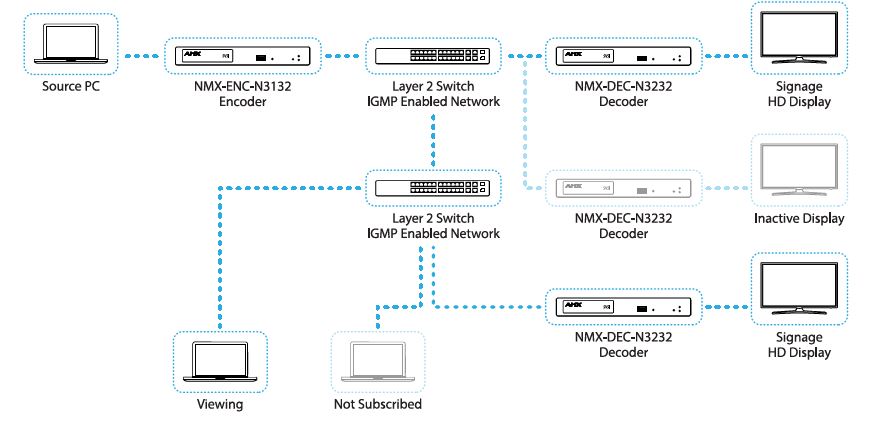 If the AV network will span multiple subnets or VLANs, a second control can be implemented. PIM (Protocol Independent Multicast) allows for the sending of multicast across any subnet and/or VLAN where PIM is enabled. In these scenarios, additional network devices may be needed to facilitate this functionality.
For more information on interoperability of SVSI products and accessories, please see our N-Series Minimum Network Requirements Product Guide.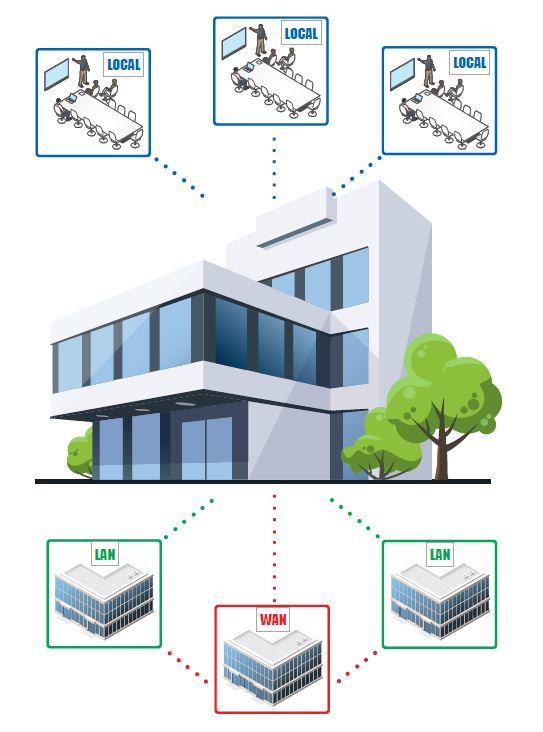 Q: What management tools are available to control SVSI's system components?

A: SVSI has a series of hardware controllers offering web based control for AV switching and accessory control. There are three different versions:
• Small installations comprised of up to 5 users and 50 devices (with N8001)
• Large installations with unlimited users and devices (with N8002)
• Large installations with unlimited users and devices, requiring enterprise features such as hardware fail-over capability, redundant power supplies, and hot swappable drives (with N8012).
Within all of these options, the web interface offers a variety of simple to use controls, including point and click matrix, configuration and setup.
All SVSI hardware is NetLinx Native, allowing simple use with AMX NX Central Controllers and user interfaces. And, SVSI can be used with any third-party control system.
In-Room/ Local Network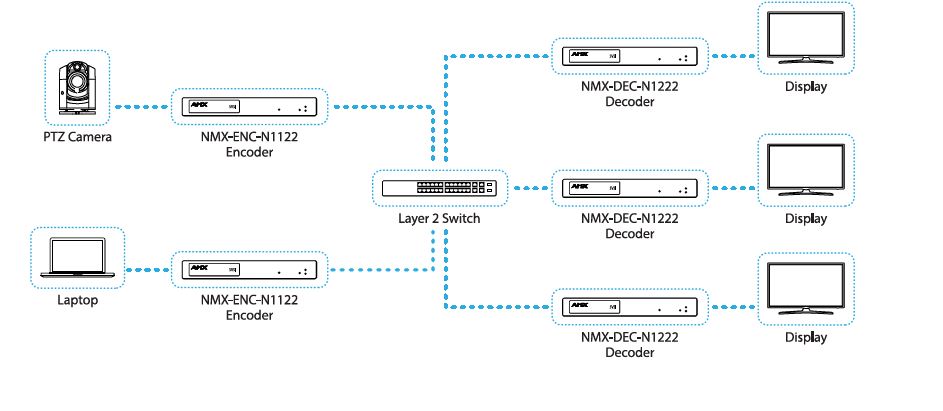 Multi-Switch Enterprise Network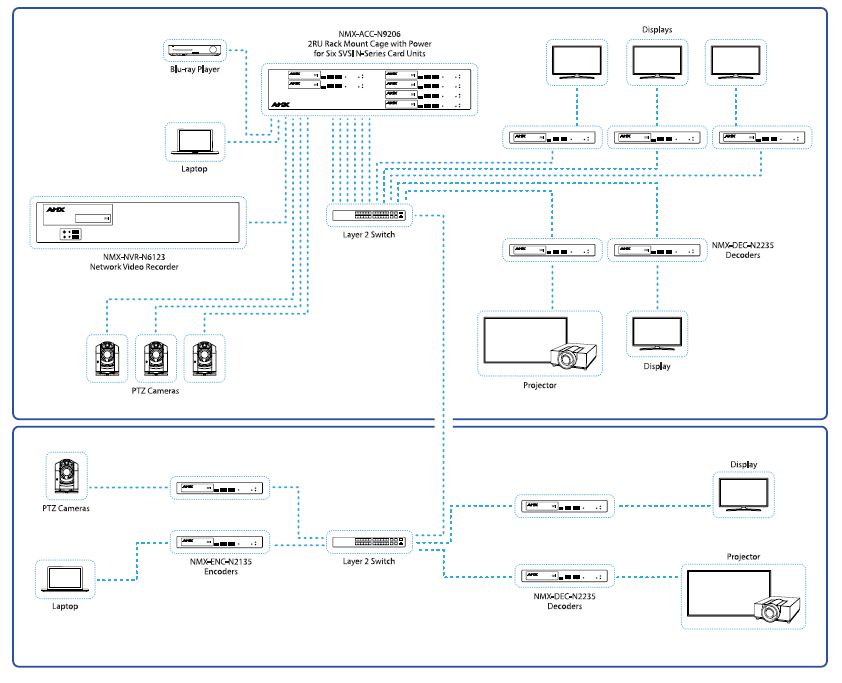 Enterprise Converged Network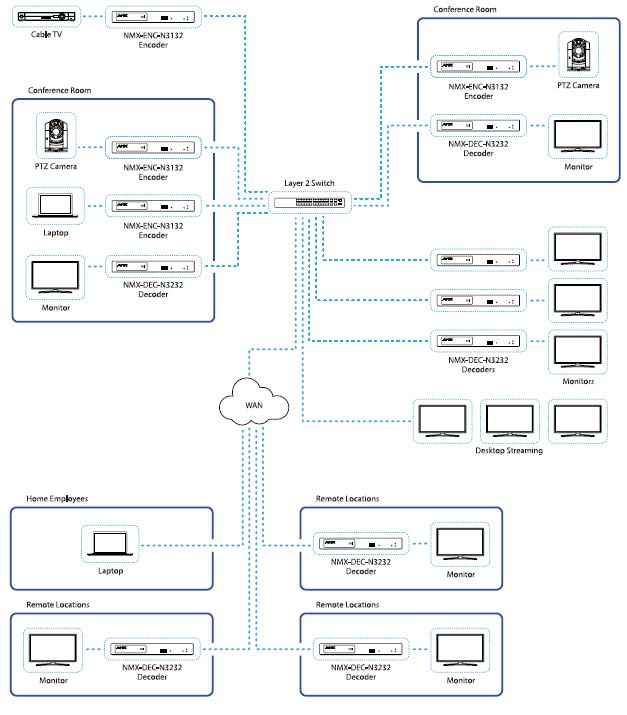 Windowing Processors and Walls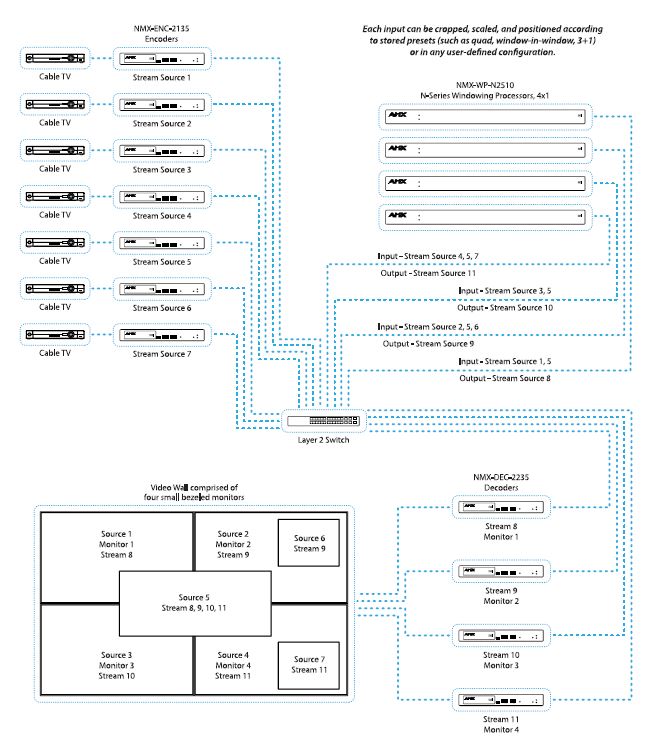 View
all AMX SVSI products or
contact
our AMX experts!