BrightSign heeft meerdere oplossingen die bedrijven in het nieuwe normaal helpt hun business te hervatten. Oplossingen waarbij de risico's op besmettingen geminimaliseerd worden én die het gemakkelijker maken op de werkzaamheden weer te hervatten.
BrightLink
Avoid high-touch surfaces. View and control a touch screen's display on your mobile phone.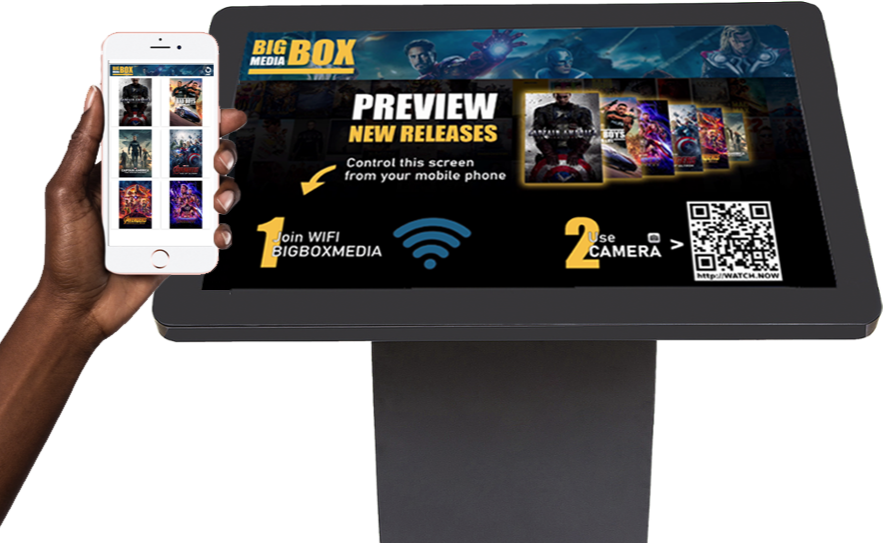 Features
Delivers phone assisted engagement for touchless interactivity with a quick scan of a QR code
Links any phone to your signage for touchless engagement without internet or an app
Displays your content in a linked phone's browser, making it a viewable digital sign & sign controller – no internet or app needed
Provides an affordable, turnkey solution with a BrightSign player, an installed wireless module & your custom content
Uses proven BrightSign technology that can easily be deployed for new and existing installations with confidence
BrightMenu
Phone assisted touchless menu solution – no app or internet required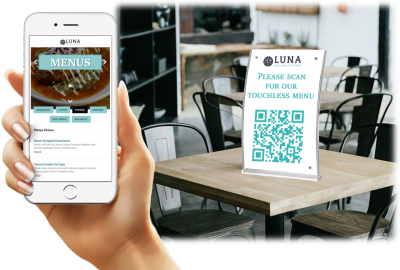 Features
Eliminates the risk of sharing menus by replacing printed menus with one that easily displays on customer phones
Delivers touchless menus to connected phones instantly with a simple QR code scan
Distributes your menu to hundreds of patrons from a single BrightSign player with an installed wireless module
Supports a variety of menu content from simple JPG & PNG menu images to more engaging menus with interactive HTML
Offers an Admin login to easily upload your menu and customize the names of the Wi-Fi network and menu webpage
Does NOT require an internet connection, an app or even a display
Deploys easily to new and existing installations to get businesses up and running quickly
Includes a BrightSign LS424 player, an installed Wi-Fi module and a micro SD card running the default BrightMenu presentation
BrightVoice
A voice-activated digital signage solution that delivers a unique hands-free interactive experience. BrightVoice allows your audience to interact with your displays by engaging in tailor made conversations using a wake word followed by natural voice commands to control the playback of your signage. With BrightVoice you can control the experience and deliver custom & intuitive audience engagement in an offline environment for any application from retail to restaurants and more. BrightVoice intelligently deciphers the speech to accurately trigger playback of not only the on-screen content, but also music, lighting and actions of other devices.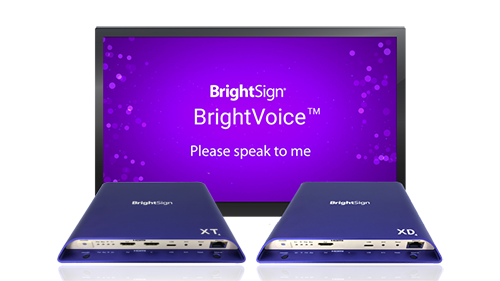 Features
Listens to and interprets spoken commands that can mimic commercially available voice enabled devices
Deciphers simple to complex phrasing to trigger a wide range of actions such as playback of on-screen content, music, lighting or even the operation of other devices
Employs intelligent speech-to-text decoding to determine user intent and ensure accuracy
Operates securely and anonymously without recording or storing voice commands
Functions entirely offline without an internet connection for a controlled and reliable experience
What's required
BrightSign XD1034 or XT1144 player with an installed BrightVoice software license
USB connected BrightVoice microphone accessory
BrightVoice Command Model Service
More information?
Please contact us
!